---
If we hire you or the person you refer, you'll get all of: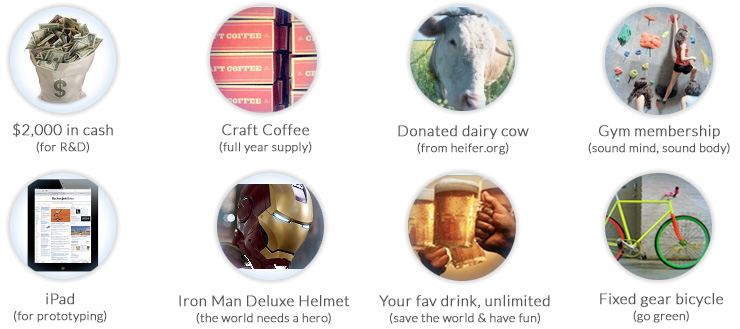 ---
Why Amicus?
Amicus is reshaping civil society through innovation. We believe profits and social good can go hand in hand. At Amicus, you can work for a fast growing startup that's disrupting a really large market and feel great about what you do. Nonprofits in the U.S. currently spend $60 billion annually to raise $300 billion — 20 cents on the dollar! We build tools that increase the amount nonprofits raise, while drastically decreasing their costs. Amicus puts more money in the hands of great organizations and creates lots of value in the process. Tired of deciding whether to do good or do well? You've come to the right place.
Oh, and we're based in New York City*, the Rome of our time.
---
Our Investors
Amicus is backed by an amazing group of investors:
---
Who we're looking for
You're a talented, socially-conscious developer looking for a rigorous project with tangible civic returns. You could write code in your sleep, but you're kept awake at night thinking about how to direct your skills towards a more meaningful impact.
Rubyists
You dream in RoR.
Front-end, back-end, you'll code it all.
Agile is your middle name.
Frontenders
You delight in pushing browsers to their limits.
Realtime interactions are your middle names.
You're not afraid of a little RoR.
Director of Partner Success
You'd write a book on nonprofit tech, but you're too busy using it.
You manage web/digital programs for nonprofits.
You know lots of people who do what you do, and they know you.
Marketing & Copywriting Intern
You love to write, and you're really good at it.
You're eager to learn about social good startups.
You have published awesome things on the internets.
Partnerships Intern
You know what it's like to work for a cause you believe in.
Sales and customer success are two of your favorite pastimes.
You're excited to learn what it means to be part of a social good startup.
Other
Not a developer but think you can help us out? Tell us about your superpowers below.
---